THE CLASSROOM
The Classroom, is a long-running program that provides space for artists, writers, designers, and publishers to highlight new releases at NYABF and fosters dialogue around important themes in artists' book publishing. The NYABF 2022 Classroom is organized in collaboration with David Senior, Director of Library & Archives at SFMOMA, and is hosted by Dia Art Foundation.
All programs were recorded and archived on our Youtube Channel. See below!
12:00—1:00 pm
The Conditions of the Archive—Marilyn Nance: Last Day in Lagos, with Oluremi C. Onabanjo
From January 15 to February 12, 1977, more than 15,000 artists, intellectuals and performers from 55 nations worldwide gathered in Lagos, Nigeria, for the Second World Black and African Festival of Arts and Culture, also known as FESTAC'77. Among the musicians, writers, artists, and cultural leaders in attendance were Ellsworth Ausby, Milford Graves, Audre Lorde, Queen Mother Moore, and Sun Ra. Serving as the photographer for the US contingent of the North American delegation, Brooklyn-based photographer Marilyn Nance made more than 1,500 images throughout the course of the festival—one of the most comprehensive photographic accounts of FESTAC'77.
Last Day in Lagos,
co-published by Fourthwall Books (Johannesburg) and CARA (New York), draws from Nance's extensive archive, most of which has never before been published. In this presentation, editor of
Marilyn Nance: Last Day in Lagos
, Oluremi C. Onabanjo will unpack the various stages of her close collaboration with Nance that yielded this distinctive photobook. Presented by Center for Art, Research and Alliances (CARA).
︎︎︎ Watch here
1:00-2:00pm
Porneia: Movimento de Arte Pornô 1980-1982, with Eduardo Kac and Tie Jojima
This conversation between artist and poet Eduardo Kac and Tie Jojima addresses the Movimento de Arte Pornô, which Kac founded in 1980, in Rio de Janeiro, and developed with other artists and poets in Brazil through the end of 1982. The images and texts Kac created during this period have just been published by Nightboat Books as
Porneia: Movimento de Arte Pornô 1980-1982
. A leading figure in contemporary art, Kac is known for his digital, holographic and online works that anticipated the global culture we live in today, as well as for launching Bio Art and for developing Space Art. Kac is joined in conversation with Tie Jojima, an Assistant Curator at Americas Society and a Ph.D. Candidate in Art History at the Graduate Center, CUNY, where she is writing the first Ph.D. dissertation focused on the Movimento de Arte Pornô. Presented by Nightboat Books.
︎︎︎ Watch here
2:00-3:00pm
Publishing as Legacy Work, with Drew Sawyer and Silas Munro on Darrel Ellis
This conversation with curator Drew Sawyer (Brooklyn Museum) and publication designer Silas Munro (Polymode) will launch a recent monograph by the New York–based mixed-media artist Darrel Ellis (1958–1992). Known for his experimental approach to painting and photography, Ellis explored the psychic terrain between surface, memory, and lyric self-representation. Working in part from his late father's photographs of Black family life in the 1950s, Ellis projected, deconstructed, and re-imaged his family history, creating uncanny portraits marked by voids and warps. Ellis was on the cusp of major recognition when his life was cut short by AIDS in 1992, at the age of 33. Sawyer and Munro will discuss Ellis's unique and prescient artwork and reflect on the role of publishing in focusing renewed attention on artistic legacies, in particular what it means to create the first in-depth monograph and primary published resource for an artist and their legacy. Presented by Visual Aids.
︎︎︎ Watch here
3:00-4:00pm
Run O' The River / Bitter Medicine, with Linda Zeb Hang and Keith Graham
Linda Zeb Hang and Keith Graham's
Run O' The River / Bitter Medicine
is a printmaking odyssey and book expedition through psychedelic terrain. Visionary poems, drawings, schematic assemblages, instant aura-reading photographs, and encoded glyphs congeal to reveal psychic and hypnagogic micro-climates. The authors and artists will begin with a reading and guided meditation, followed by a conversation with Vivian Sming on how flexibility, instinct, and intuition have directed the artists, on the cusp of widening medicinal and recreational adoption of psilocybin. Co-presented by FIST and Sming Sming Books.
︎︎︎ Watch here
4:00-5:00pm
Tender Noted and Earnestly, with Shala Miller, Monilola Olayemi Ilupeju, and Corinne Butta
This conversation celebrates the release of Monilola Olayemi Ilupeju's debut publication,
Earnestly
(Archive Books). Ilupeju will be in conversation with Shala Miller, author of
Tender Noted
(Wendy's Subway), and Corinne Butta, the editor of both artists' publications. Earnestly is a book that collages texts from the artist's transdisciplinary practice in order to reckon with the author's changing body and the afterlife of trauma within the tangle of race relations, sexual politics, and family history. Ilupeju celebrates embodied writing for its self-transformative power and for the gentle revelations made possible through its sharing. Shala Miller is the author of
Tender Noted
, a meditation on the intersection of desire, mourning, and listening to one's skin while coming to understand the practice of love. The book's organizing principle is the echo: between text and image and between bodies and the stages, rooms, and affects they inhabit. Presented by Archive Books.
︎︎︎ Watch here
THE STAGE
on the rooftop

12:00pm

Art Metropole (C56) and New Documents (D3) present a solo performance by Raven Chacon in conjunction with the release of his new book, For Zitkála-Šá.

The book is structured through a series of scores for thirteen contemporary female Indigenous performing artists. Raven Chacon is a composer, performer and installation artist from Fort Defiance, Navajo Nation.

The day will feature performances presented by CC Collective.

CC is a top secret DIY artist collective that hosts NOTAFLOF live music & performance events with free rice (and hopefully soup in the winter).

Lineup:
Emil Bognar Nasdor
Kwami Winfield and Riley
Julia Santoli + Austin Sley Julian
4uarm

SUNDAY BAZAAR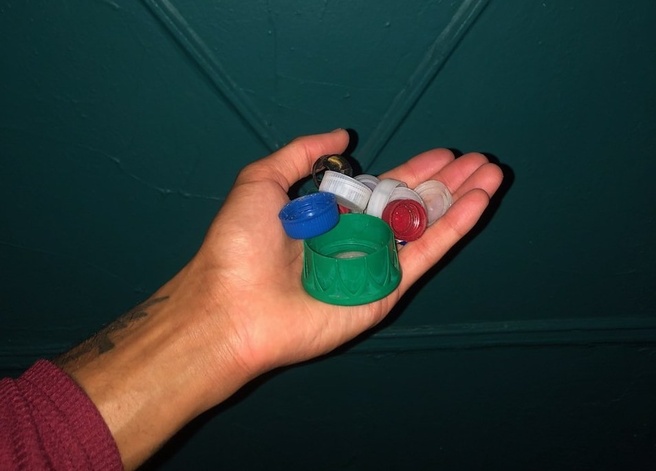 Poetic research and archival unit
Shanzhai Lyric,
with Canal Street Research Association, will present a new window installation, titled Reserve.
Lower East Side trash artist and gleaner Rolando Politi has for decades conceived of a local alternative currency made of found bottle caps, called Kap Kurrency. Inspired by Politi, Canal Street Research Association presents an ongoing reserve of bottle caps to be minted by the Bank of Garbagia. Gathered and draped like strings of fruit or beads, the installation recalls the market as a site for the exchange and display of riches. The plastic bottle cap, used and discarded with wanton disregard, is here preserved as an object of beauty that accrues value. With this offering, Reserve questions the monetary systems that govern our lives—and which so often lead to the hoarding, rather than sharing, of resources.
Image credit: Day Sinclair, 2022.
In tandem with their Window project, during the this year's NY Art Book Fair, on Sunday October 16, Shanzhai Lyric reprises Çanal Street Researçh Assoçiation, their ongoing homage to the legacy of artists experimenting in retail. The shop takes cues from local retail experiments including Wooster Enterprises, Godzilla's Curio Shop, Fluxshop — which once stood at 359 Canal Street — and the short-lived Fluxus outpost La Cédilla qui Sourit, or The Cedilla That Smiles, which famously never managed to sell a single item. Named for the transformational grapheme that changes a hard "c" into a soft one, a cedilla looks like an upside down question mark. Çanal Street Researçh Assoçiation will have on offer an assortment of real and bootleg works.
For more info about the window installation,
click here.
EXHIBITOR PROJECTS
Thick Press & Post-Radical Pedagogy
Wall, Table, Lexicon: Publishing as Rehearsal is presented by Thick Press and Post-Radical Pedagogy. How do we rehearse caring ways of being, knowing, working, and studying? Thick Press welcomes visitors to sit down at their table for ongoing goings-on and radical hospitality. They'll be hanging out with co-conspirators from six publishing projects that exist at the intersection of care and social movement. Topics include: mutual aid organizing; friendship on Death Row; mapping social change ecosystems; radical approaches to helping; care as a site of inquiry; and healing justice. Post-Radical Pedagogy questions the design of curricular apparatus and explores alternatives to syllabi, grading rubrics, classroom conventions, and presence of authority. Reflecting on the wall with exemplification of the hostile and colonial aspects of administration in education, invited guests and passersby will generate content, which will thicken the walls as an act of on-site publishing and exhibition. Check each day's schedule for related programming.


Werkplaats Typografie

"Kardesler Groente & Fruit 2" is a shop published by Werkplaats Typografie. The shop is established based on the compression, transfer, and decompression of "Kardesler Groente & Fruit," a fruit & vegetable shop located in west Amsterdam. As a common place of interaction, a place of trading goods, a place of trading stories, of precious encounters and small gestures; a ubiquitous site, so central to our daily routine, this shop blends in seamlessly within the neighborhood. By researching and embodying the context of this physical market as a stage, "Kardesler Groente & Fruit 2" presents a hyperreality of embedded storytelling, with a focus on the commonly overlooked quotidian qualities of the omnipresent fruit & vegetable shop. Join Werkplaats Typografie on the rooftop during the Fair to share stories over some freshly cut fruits.

52 Walker x Du-Good Press
52 Walker x Du-Good Press is a collaborative installation with Leslie Diuguid, of Du-Good Press—the first and only Black and woman owned fine art printmaker in New York. 52 Walker, located in TriBeCa, programs four exhibitions per year and produces a corresponding limited edition screenprint by each artist with Du-Good Press. On the occasion of the 2022 NY Art Book Fair, these editions and a selection of prints from the studio will be on display, with works by Kandis Williams, Nikita Gale, Nora Turato, and Tiona Nekkia McClodden. The installation will also feature Kandis Williams' exhibition publication, A Line, which inaugurates 52 Walker's highly anticipated imprint, Clarion.


afila.si
Digital Library takes Space: Black Experience isn't a Spectacle is a project by afila.si [æfilæsi], a collective repository anchored in Afro-centered perspectives of history, with aims to fortify access to these cultural productions. afila.si and Anteism Books presents the publication of a referential catalog, Black Experience isn't a Spectacle, edited by Venessa Appiah and designed by Jesse Katabarwa that expands upon an eponymous 2020 exhibition. Combining elements of an art gallery and a reading room, the project space invites visitors to engage with a literary and cinematic library combined with visual artworks by Katabarwa. These pieces are to be consumed through embodiment with ibiyanε, a collection of sculptural chairs embedded in Sub-Saharan African reflections of physicality by Tania Doumbe Fines and Élodie Dérond.


Karma
Karma presents a new site-specific installation by artist Alvaro Barrington.


Three Star Books
Three Star Books presents a special display of artists' books and multiples by John Armelder, Elvire Bonduelle, Nathan Carter, Liz Deschenes, Raffaella della Olga, Rafael Rozendaal, and Rirkrit Tiravanija.

Wall, Table, Lexicon: Publishing as Rehearsal
This exhibitor project, presented by Thick Press and Post-Radical Pedagogy, asks how do we rehearse caring ways of being, knowing, working, and studying? During each day of the Fair, visitors are invited to special programming in the project space.

P4
1:00–3:00pm

Conversation about solidarity and mutuality, with Mark Anthony Hernandez Motaghy, Melaine Malcome, and Madeline Blount + Thick Press
Melaine is an organizer with Mutual Aid Medford and Somerville (MAMAS), Madeline is with Crown Heights Mutual Aid (CHMA), and Mark has been involved with both groups. The conversation will center around ideas explored in Rehearsing Solidarity: Learning from Mutual Aid (Thick Press, 2022), a zine-book that Mark, an artist and cultural worker, compiled with members of MAMAS and CHMA, including Melaine and Madeline.